Medal of Honor Recipients
Corporal James L. Day
2d Battlion, 22nd Marines
14-17 May 1945
Okinawa

From 14 to 17 May 1945, Cpl Day was a squad leader serving with the Second Battalion, Twenty-Second Marines on Okinawa. On the first day, Cpl Day rallied his squad and the remnants of another unit and led them to a critical position forward of the front lines of Sugar Loaf Hill. Soon thereafter, they came under an intense mortar and artillery barrage that was quickly followed by a ground attack by some forty Japanese soldiers. Despite the loss of one-half of his men, Cpl Day remained at the forefront, shouting encouragement, hurling hand grenades, and directing deadly fire.

Reinforced by six men, he led his squad in repelling three fierce night attacks. At one point, after hearing calls for corpsman assistance, Cpl Day braved heavy enemy fire to escort four seriously wounded Marines, one at a time, to safety. He then manned a light machine gun, assisted by a wounded Marine. In the fierce action, his machine gun was destroyed, and he suffered multiple white phosphorous and fragmentation wounds. He reorganized his defensive position in time to halt a fifth enemy attack with devastating small arms fire.

On three separated occasions, Japanese soldiers closed to within a few feet of his foxhole, but were killed by Cpl Day. During the second day, the enemy conducted numerous unsuccessful swarming attacks against his exposed position. When the attacks momentarily subsided, more than 70 enemy dead were counted around his position. On the third day, a wounded and exhausted Cpl Day repulsed the enemy's final attack, killing a dozen enemy soldiers at close range.

Having yielded no ground and with more than 100 enemy dead around his position, Cpl Day preserved the lives of his fellow Marines and made a significant contribution to the success of the Okinawa campaign.

Regarding his heroics, MajGen Day later said, "There was really no good reason for me to fall back. I expected help to come at any time. It just never came, so I kept doing what I was doing."

Many of the men who witnessed his bravery were killed. But there were enough witnesses that he was recommended for the Medal of Honor. Statements were taken, but they were misplaced or lost after Cpl Day's battalion commander was killed. In addition, his company commander was wounded and evacuated. Cpl Day's Medal of Honor fell through the cracks. Decades later some of the documents resurfaced. It took many more years for the necessary paperwork to be gathered and submitted.

On 20 January 1998, President Clinton presented MajGen Day with the Medal of Honor for his actions on Okinawa more than half a century earlier.

James L. Day was born 5 October 1925, in East St. Louis, Illinois. He enlisted in the Marine Corps in 1943 and participated in combat action during World War II in the Marshall Islands and on Guam before landing on Okinawa.

After World War II, MajGen Day remained in the Marine Corps. In September 1952, he completed The Basic School at Quantico. In the next three decades, he oversaw combat troops in Korea and Vietnam and held commands in San Diego, Camp Pendleton and Washington DC. He returned to Okinawa four times before becoming commanding general of Marine Corps bases in Japan from 1984 to 1986.

When MajGen Day retired in 1986, he was the last active-duty Marine who had served as a combat infantryman in World War II, Korea and Vietnam. He is believed to be the only Marine infantryman to have been wounded and decorated for valor in all three wars. MajGen Day amassed 31 decorations, including three Silver Stars, a Bronze Star, two Navy Commendation Medals and six Purple Hearts.

On 28 October 1998, just nine months after receiving the Medal of Honor, MajGen Day died of a heart attack in Cathedral City, California. He was laid to rest in Fort Rosecrans National Cemetery in San Diego.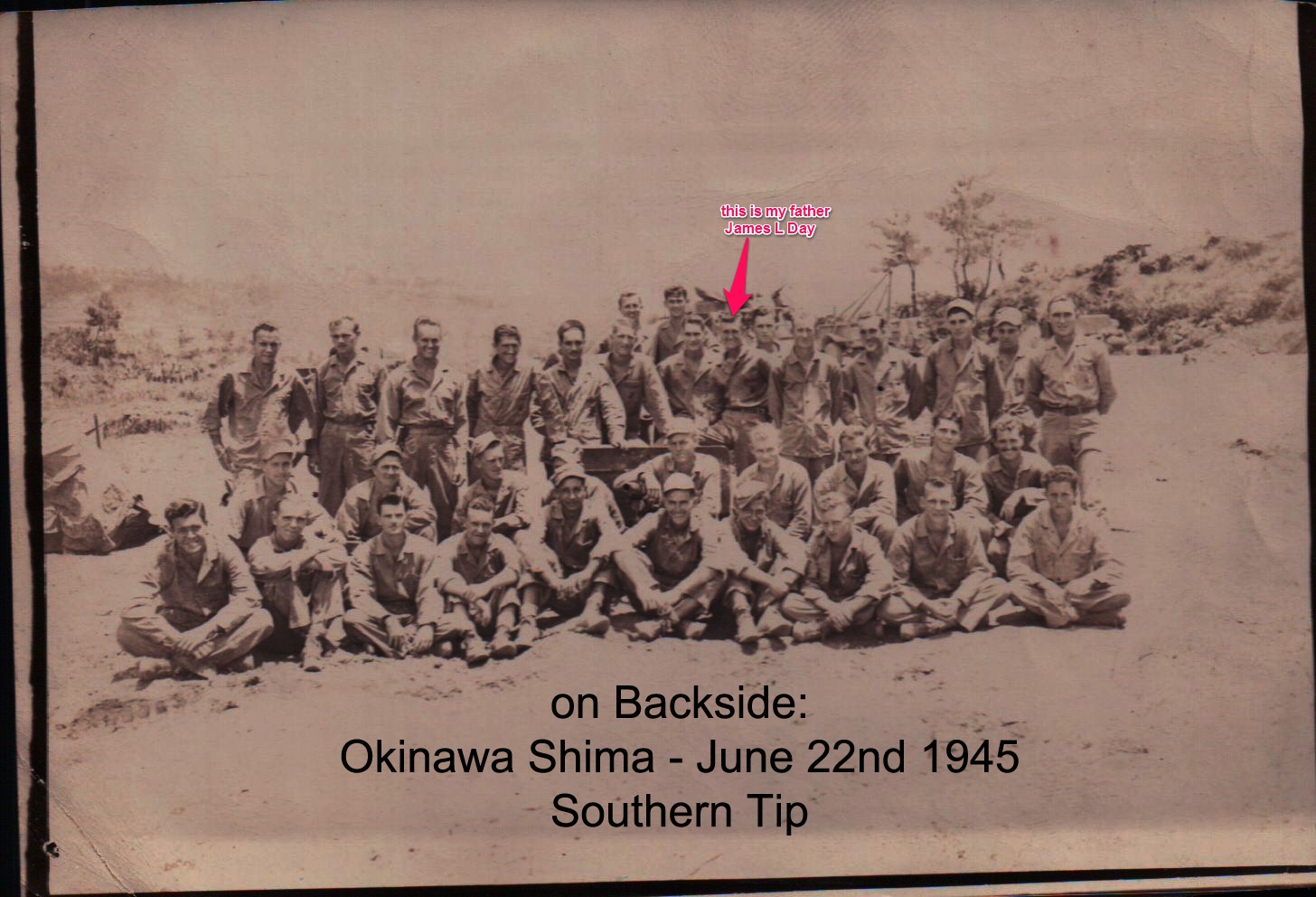 The picture above comes from MajGen Day's son, Matt, who identified his father for us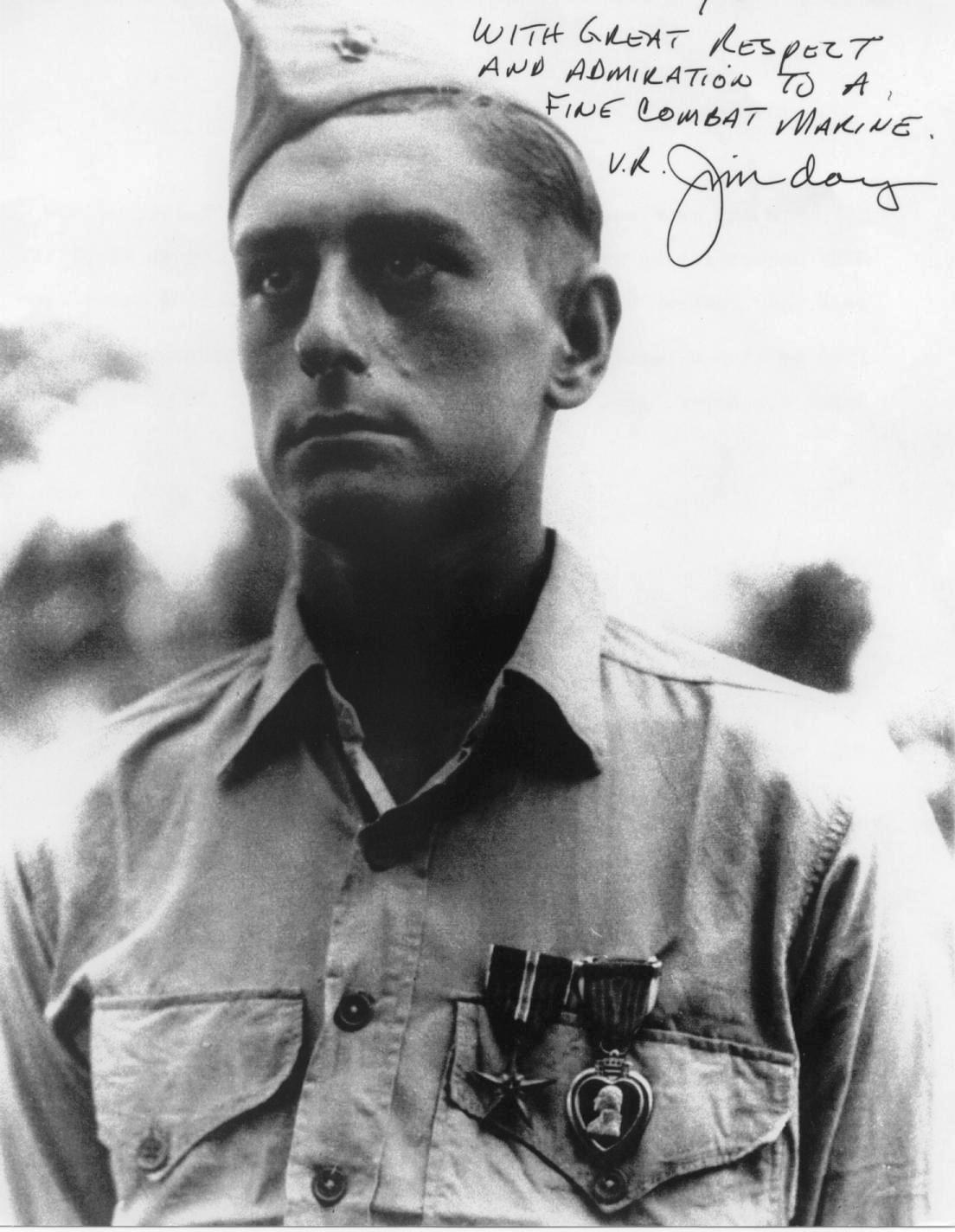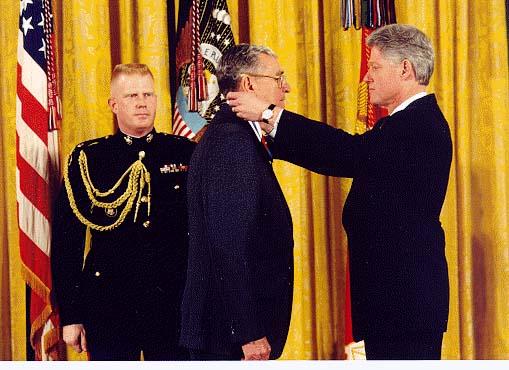 left: Cpl James L. Day; right: MajGen receives the Medal of Honor from President Clinton in 1998