OUR REUNION CO-CHAIRS

Bill Steed (center) and Jean Steed (right) with
2016 reunion co-host Pam Bloustine (left)

We're in luck again! Our hosts, Jean and Bill Steed,
are both Marines. So expect a well-organized,
tightly-run, all-around good time!


OUR HOME FOR THE WEEK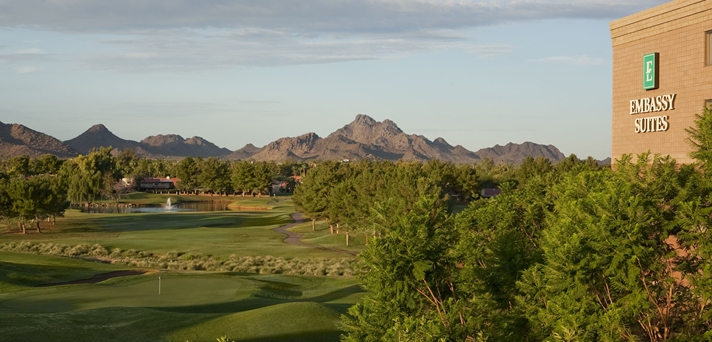 Embassy Suites Phoenix-Scottsdale

Getting There

Easily reached by car via I-10 or I-40 (via I-17)


15 miles or 20 minutes from the Phoenix Sky Harbor
International Airport


Transportation between the Phoenix Sky Harbor International Airport and Embassy Suites for WWII Marines, wives and widows only will be provided by volunteers.


All others can take a taxi (approximate cost is $42)
or arrange a shuttle (www.supershuttle.com, approximately $25). The hotel does NOT have a shuttle.

The Rooms: How Suite It Is!
Discounted room rate: $91 ($102.44 with tax)
for a 2-room suite with 1 king or 2 double beds
Living area with queen sleeper sofa and arm chair
Kitchenette with refrigerator, microwave & wet bar
Private balcony
Two large-screen TVs
In-room safe
Free wifi
Limited number of wheelchair accessible rooms
(so reserve early if you need one)
Special room rates are available 3 days before and
3 days after the reunion dates
More Hotel Highlights
Free cook-to-order and buffet breakfast daily
Happy hour with free drinks and snacks daily
Free parking
Full service restaurant and bar
60 restaurants within a mile and a half
1 block from Paradise Valley Mall
Shuttle to restaurants and shopping within 1 mile
Outdoor pool
Fitness center
Check in - 3:00 pm; check out - noon

We're making it easy for you! All events, excluding the optional tours, will be held at the Embassy Suites.


WE'D LOVE TO HAVE YOU JOIN US!

Find all the details in the spring edition of the Striking Sixth Newsletter, available here. Then follow these steps:

Review all the details, including the Schedule of Events on page 14.


Print the Registration Form on pages 15-16. Fill it out and mail it with your check to Jean by July 14.


Reserve a room at the Embassy Suites Phoenix-Scottdale by July 14. You can do it online, or call
(602) 765-5800 or (800) 560-7782.



Enter or mention Group Code 6TH to get the special discounted rate.


There are two other Embassy Suites, so make sure you ask for the Embassy Suites Phoenix-Scottsdale.



WHAT'S GOING ON

Whether you're hanging out in our Hospitality Room talking to some amazing Marines, or taking the optional -- but highly recommended -- field trips, we guarantee you'll learn a lot,
laugh a lot, and make new friends!

Tuesday, August 15

Wednesday, August 16
Tour of the world-class Musical Instrument Museum followed by lunch at the home of Bill & Jean Steed. Includes a look at Bill's Marine Corps collection!
Bus transportation is also included.

The engaging and inspiring Musical Instrument Museum --
listen to 6500+ musical instruments from all over the world in their
original cultural settings through your own special headphones

Thursday, August 17
Tour of the amazing new OdySea Aquarium --
includes bus transportation, but lunch is on your own at one of several restaurants onsite


Dinner Buffet at the hotel plus "Rock'n Memories" with Pam and Bruce performing oldies but goodies



Two million gallons of water, 500 species, 30,000 animals and 50 exhibits: all at the OdySea Aquarium!



Friday, August 18
Morning and afternoon trips to Casino Arizona with slots, blackjack, keno, and more. Includes bus transportation, but lunch is on your own.


Ladies' Luncheon at the hotel


General Meeting and Amazing Action-Packed Auction
in the Hospitality Room after dinner on your own

Casino Arizona: test your luck -- or skill! -- with 900 state-of-the-art
play slots, blackjack, keno and more!

Saturday, August 19
Memorial Service with color guard, singer and bagpiper
at the hotel in the morning


Group and family photos following the Memorial Service


Dinner Banquet -- the grand finale with special guest speaker and great entertainment

Don Honis rings the bell while Harry McKnight
reads the names of the recently departed at the
2016 Memorial Service